French conversation workshops (advanced levels)
10 weeks of 1 hour 15 minutes = 12 and a half hours
Content
This course focuses on speaking French and learning to express yourself more confidently on interesting and contemporary topics related to French culture.
The course is structured as a conversation workshop/debate with a maximum number of 4 students. The participants are required to speak exclusively in French. The theme is chosen in accordance with the students interests and is given one week in advance so that the students can prepare their arguments for discussion.
Our warm and homely facility in Hampton will provide the perfect environment for students to relax and speak French while drinking a cup of coffee and/or trying French food.
Outcomes
At the end of the course you'll be able to:
Build fluency and confidence in spoken French
Further understand different aspects of the French culture (politics, economics, arts, leisure, social issues, current affairs etc)
Pre-Requisites
This course is suited to students with a higher intermediate or advanced level of French who want to maintain and practise their spoken French in a relaxing environment.
Textbook
All material will be provided by "A French Journey".
Students need to bring pen and notebook.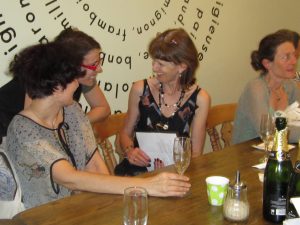 Venue
All our face-to-face classes are held in our French learning center at 567 Hampton Street, Hampton Victoria, Australia.
Term Dates 2024
Term 1
5th February to 28 March  (8 weeks)
Term 2
22 April to 21st June (9 weeks)
Term 3
15th July to 13th September (9 weeks)
Term 4
7th October to 6th December (9 weeks)