TRAVEL FRENCH 1 (LE FRANCAIS DU VOYAGE 1 – Learn french in Melbourne)
10 Weeks of 1.5 hrs = 15 hrs
Content
This 15-hour course will make you travel around 10 regions of France. Each week you will discover a new region, you will learn about its geography, main tourist sights, its food and local customs. On your journey you will also learn to communicate in very practical travel situations such as:
Meeting and greeting people
Asking for information about times and directions
Buying train tickets
Booking accommodation
Shopping and money
Ordering food and drinks
And lots more.....
As part of your journey with us, you will also taste some food from the various regions, and you will learn about regional differences. You will be immersed into the French culture language and food.
Outcomes
At the end of the course you'll be able to:
Greet people and introduce yourself
Communicate effectively in everyday travel situations (using real life scenarios)
Understand key cultural and regional differences
Speaking a language is a skill that needs practice. For this reason, we will provide many opportunities in class for you to practise speaking, so you can build fluency and confidence. We will focus on individual needs in a fun and creative way.
Pre-Requisites
This course is suited to complete beginners or students with a basic knowledge of French who wish to be immersed into the French culture, language and food.
Textbook
All material will be provided by "A French Journey". However a textbook will be recommended for personal study (to be confirmed on the first class).
Students need to bring pen and notebook.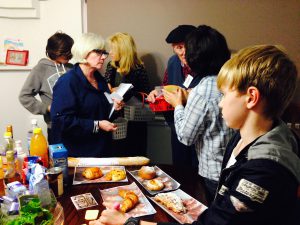 Venue
All our face-to-face classes are held in our French learning center at 567 Hampton Street, Hampton Victoria, Australia.
Term Dates 2024
Term 1
5th February to 28 March  (8 weeks)
Term 2
22 April to 21st June (9 weeks)
Term 3
15th July to 13th September (9 weeks)
Term 4
7th October to 6th December (9 weeks)