INTERMEDIATE CONVERSATION GROUPS LEVEL 1 AND 2
10 Weeks of 1.5 hrs = 15 hrs
Content
This 15-hour course will give you the opportunity to practice your conversational skills while at the the same time revising some of the main grammatical concepts. The course will also include cultural aspects of France so that learning the language becomes a rewarding and simulating experience.
Outcomes
At the end of the course you'll be able to:
Express yourself in both spoken and written form in a more natural way.
Understand more about French culture.
Feel confident about the use of grammatical structures in a communicative context.
Pre-Requisites
The course is suited to all intermediate students who want to reinforce their spoken and written French.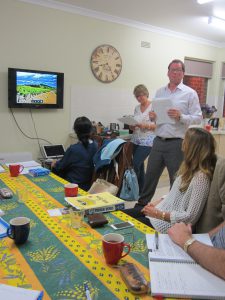 Venue
All our face-to-face classes are held in our French learning center at 567 Hampton Street, Hampton Victoria, Australia.
Term Dates 2024
Term 1
5th February to 28 March  (8 weeks)
Term 2
22 April to 21st June (9 weeks)
Term 3
15th July to 13th September (9 weeks)
Term 4
7th October to 6th December (9 weeks)