10 Weeks of 1.5 hrs = 15 hrs
Content
This 15-hour course focuses on speaking, listening and learning everyday French. The objective of the course is to reinforce the basic French concepts and further develop the conversation skills around everyday life themes. The course will include sessions on the following topics:
Describing people physically
Describing personalities and use of adjectives
Talking about the family
Talking about celebrations in France
Describing your city/favourite place
Talking about holidays
Talking about your dreams/projects
Talking about going out
Describing a film/visual material
Review of the learning
Outcomes
At the end of the course you'll be able to:
Reinforce main concepts / patterns in French language
Communicate in everyday situations
Understand key cultural differences
Speaking a language is a skill that needs practice. For this reason, we will provide many opportunities and real life scenarios in class for you to practise speaking, so you can build fluency and confidence.
Pre-Requisites
This course is suitable for students who have already completed interactive 1 course or who already have French basics to start a simple conversation in French.
Textbook
All material will be provided by "A French Journey". However a textbook will be recommended for personal study (to be confirmed on the first class).
Students need to bring pen and notebook.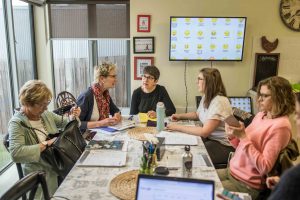 Price
$400 for Term 1, 2 (8 weeks)
$450 for Term 3 (9 weeks)
$450 for Term 4 (9 weeks)
Venue
All our face-to-face classes are held in our French learning center at 567 Hampton Street, Hampton Victoria, Australia.
Term Dates 2024
Term 1
5th February to 28 March  (8 weeks)
Term 2
22 April to 21st June (9 weeks)
Term 3
15th July to 13th September (9 weeks)
Term 4
7th October to 6th December (9 weeks)