New Caledonia Immersion TO BE CONFIRMED
SEVEN DAY IMMERSION TOUR IN NOUMEA - NEW CALEDONIA
Come along to our French Immersion Tour in Noumea, in the beautiful island of New Caledonia
You will be fully immersed in French language, and New Caledonia's history and culture as you discover this stunning part of France - because yes ! New Caledonia is indeed part of France and everybody speaks French! With a three hour-flight only from Melbourne, Noumea offers a relaxed setting, perfect for a French Immersion.
When:
Next tour TO BE CONFIRMED
Content:
The tour includes:
15 hours of French class at CREIPAC (an excellent language school in Noumea) including shopping missions, bounia dish preparation and lots of other language activities such as general discussion, games, cultural insights, small group workshops and much more
1h conversation with the French Journey tour teachers at the end of each day at the hotel lounge
Discovery of the city of Noumea, the old Quartier Latin, the lively market, the Ilot Canard and its aquatic trail, the remarkable Tjibaou Cultural Centre
Special day excursion to the Phare Amedee including entrance to the Phare, cultural presentations, trip on a glass-bottom boat and lunch buffet with the tasting of local specialities
Discovery and Tasting of authentic local culinary delights, including bounia, oysters and crabs, seafood vol au vent, venison, bami, tahitian salad, and cava of course!
Seven nights accommodation in a single, double or shared room at the luxurious Hotel Meridien, ideally located in the Anse Vata
7 Breakfasts, 5 lunches, 7 aperitifs and 2 dinners as itemised in the itinerary
Fully escorted by your professional French tutors from A French Journey
And lots more.....
Outcomes
At the end of the tour you will be able to:
Express yourself more naturally in French
Improve your understanding of the French language
Adapt your language skills to a wider range of everyday situations
Discover the New Caledonia's amazing history and savour regional culinary delights
Share your passion of the French language and culture with other equally passionate students
Feel more French!
Pre-Requisites
Our tour is suited for students of higher beginner to intermediate/advanced levels.
We do not accept absolute beginners. All students must have done at least 20 hours of French. The students will be placed in groups according to their levels, and the two French Journey teachers will adapt their teaching to the student needs
Because we are immersing ourselves in an array of authentic local produce and dishes, our tour is not advisable for travellers with special dietary needs, such as celiac, vegetarians, vegans, or travellers with serious fish or seafood allergies etc.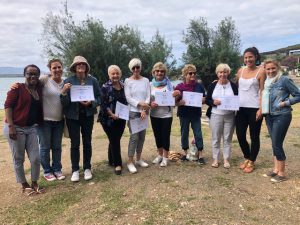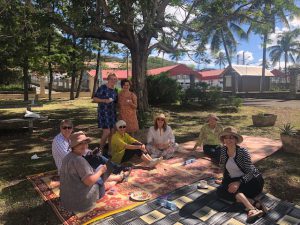 Date of tour
Next tour TO BE CONFIRMED