A French Journey is now offering New French Classes ONLINE following our current schedule
Content
All our classes are now being offered ONLINE and will cover all levels from beginners to more advanced, children, secondary students and adults.
Each week you will be able to practise your French, and continue or start learning while being immersed into the French culture and language. We are looking forward to inviting you into our interactive, engaging and stimulating French online class.
Our teachers will adapt to your needs and to your preference in terms of online tool used (Skype, Zoom, whats app or others) and we will send you the material in advance so you can start working on the topic before your video conference. We will guide you in the process before the class and all along the term.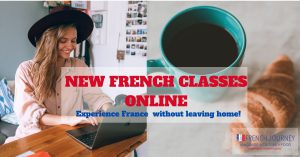 Term Dates 2020
Term 1
10th February to 27th March (7 weeks)
Term 2
20th April to 26th June (10 weeks)
Term 3
13th July to 11th September (9 weeks)
Term 4
15th October to 11th December (10 weeks)