DELF JUNIOR PREPARATION
10 Weeks of 1.5 hrs = 15 hrs
Content
We are offering a DELF junior class. This 15-hour course will give you the opportunity to practice extensively all the skills required for your DELF exam. The course will focus on the four skills covered in the exam:
Speaking
Listening
Writing
Reading
The course will also give you all the tips and strategies needed to succeed at the exam. You will be exposed to real exam papers and you will get familiar with the specific requirements of the test.
This course is offered for all levels of the DELF exam (from A1 to C2).
Outcomes
At the end of the course you'll be able to:
Fully understand the content and requirements of the test
Feel confident about each skill covered in the test
Learning a language is a skill that needs practice. For this reason, we will provide many opportunities in class for you to practice the speaking, listening, writing and reading parts of the test so you can pass the final test.
This class is offered privately or as paired classes.
Pre-Requisites
This course is suited to all students who want to prepare for the DELF exam at A1, A2, B1 or B2 level. An assessment will be made on the phone with you to confirm your level.
Textbook
All material will be provided by "A French Journey".
Students need to bring pen and notebook.
Note: A FRENCH JOURNEY WILL NOT ORGANISE ENROLMENT TO THE TEST. THE STUDENTS ARE RESPONSIBLE FOR THEIR OWN ENROLMENTS (CHECK DATES WITH ALLIANCE FRANCAISE)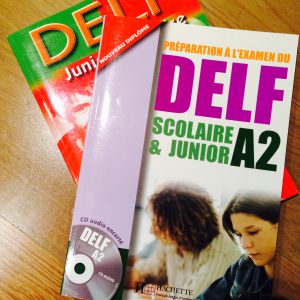 Venue
All our face-to-face classes are held in our French learning center at 567 Hampton Street, Hampton Victoria, Australia.
Term Dates 2024
Term 1
5th February to 28 March  (8 weeks)
Term 2
22 April to 21st June (9 weeks)
Term 3
15th July to 13th September (9 weeks)
Term 4
7th October to 6th December (9 weeks)