French For Primary Students
10 Weeks of 1 hrs = 10 hrs
Content
We believe children should be taught a foreign language as early as possible. Children learn best if they are able to play, sing and act using the language in a natural setting.
We will provide this natural setting - a program adapted to their needs from Prep to Year 6 using the immersion model.
Our program includes a lot of play time, songs, stories, acting and real life situations (role playing scenes) which will enable the children to communicate from day one.
The children will be totally immersed in the language for the whole duration of their course.
They will have fun, they will socially interact with other children and they will discover a new culture.
You will be impressed with their learning! They will make you want to join in!
Outcomes
At the end of the course your children will be able to:
Introduce themselves in French
Use basic vocabulary to start basic communication (colours, numbers, body parts, description of family, house, clothes, French traditions, etc)
Understand cultural facts about France and learn some traditional songs and games
Learning a language is a skill that needs practice. For this reason, we will provide many opportunities in class for your children to practice speaking, and listening to French in a natural setting.
We will offer small groups (maximum of 8), which will enable us to focus on your children's individual needs in a productive and relaxed way.
Pre-Requisites
This course is suited to all primary school students from Prep to Year 6 who want to start learning French.
Textbook
All material will be provided by "A French Journey".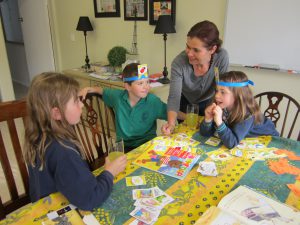 Time of classes
Price
$270 for Term 1 and 2 (9 weeks)
$300 for Term 3 and 4 (10 weeks)
Venue
All our face-to-face classes are held in our French learning center at 567 Hampton Street, Hampton Victoria, Australia.
Term Dates 2024
Term 1
5th February to 28 March  (8 weeks)
Term 2
22 April to 21st June (9 weeks)
Term 3
15th July to 13th September (9 weeks)
Term 4
7th October to 6th December (9 weeks)